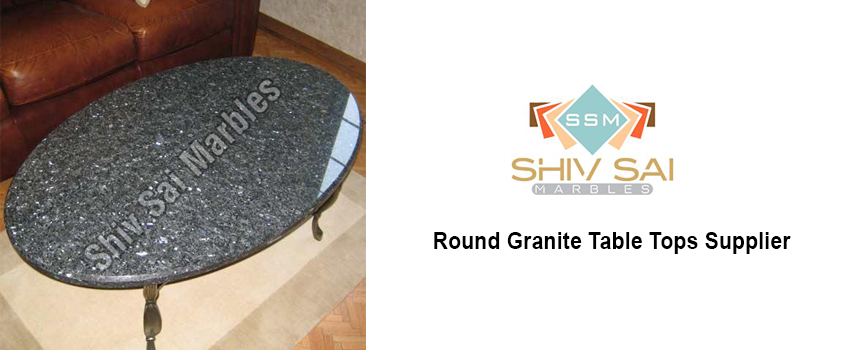 If you are redecorating your home and kitchen and want to replace your dining or coffee table, you must have been advised more than once (and perhaps by more than one person) to go for a granite table top. Earlier, round granite table tops suppliers used to be flocked by restaurant owners for their restaurants. Now, these suppliers have the additional need to supply granite table tops to households as well.
Even though round granite tables are slightly on the expensive side, they have become a preferred choice in contemporary households as well. Fairly so, as these naturally occurring stones are beautiful! They have this beautiful shine, and when the sun's rays fall on them, the million tiny particles r crystals in the granite all shine godly, making the table look worldly!
Even if this beautiful feature of the granite table tops does not want you to make a quick call to the nearest round granite table tops supplier right away, then the next section surely will.
Why Should You Opt for a Granite Table Top?
Granites are beautiful stones that form naturally due to the activities of an active volcano. Therefore, these stones are mined from volcanic regions and each table is unique. Even though they look similar, no two tabletops will look the same. This is perhaps the reason why they are inexpensive as you are getting your limited edition of the tabletop.
The fact is, because granites form naturally, man can not replicate the design or the shine of these stones. Restaurants used to choose round or square granite table tops to add a feel of luxury to the overall ambiance, whereas most homeowners go for granite table tops due to their natural colors, patterns, and overall beauty.
Although these mostly explain how fancy and beautiful granite table tops truly are, do not get fooled as these tables are much more practical. Granites are known to be one of the hardest elements found on the earth's surface, making them extremely durable. Round granite table tops are stronger and more durable than marble table tops. Whether your region goes through harsh weather conditions or you love to eat hot foods all the time, the granite table top can withstand it all for years.
Therefore, whether you fancy a beautiful barbeque table out on the lawn or a shining dining table, granite can be used for both purposes. Granite tables hardly have any adverse reaction to any food or chemicals and are scratch resistant, making them an absolute favorite material for both outdoor and indoor tables.
Besides their majestic beauty and extreme tensile strength, they are very easy to maintain. If you manage to get the tabletop from an honest round granite table tops supplier then they would seal the top properly, which would mean no water can seep inside and thus the table will never have bacteria growing on them. You will just need a soft cloth to wipe the table.
Therefore, if it is not too far out of your budget, you should choose a granite table. With the limited maintenance requirements and the sophisticated appearance, the range offered by round granite tabletop suppliers is worth every penny.